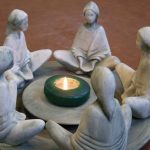 QIUET DAYS
Held on Saturdays nearest the Equinox and Solstice from 10:00-2:00! The day begins with a spoken meditation, and ends with shared reflections. A reading is offered during lunch. Otherwise the day is in silence. A simple meal is provided for those who sign up ahead.
September 20 – Led by Pat Gardiner and December 21  – Led by Klara Tammany
SINGING CIRCLES & POT LUCK SUPPERS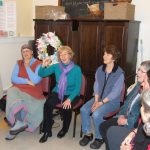 Do you like to sing? No experience needed, any ability welcomed (you don't need to read music). We sing just to nurture our inner spirits! It is fun and life giving! Bring simple songs to share, a contribution for the meal if you can, and a drum if you have one! Schedule: 4-5:00 Sing, 5:00 Pot-Luck Supper, 5:45-6:30 Sing Again!
Monday, September 22 & Saturday, December 21