V-Day aUbUrn 2018: "The Vagina Monologues"
February 24, 2018 @ 7:00 pm
$7 – $10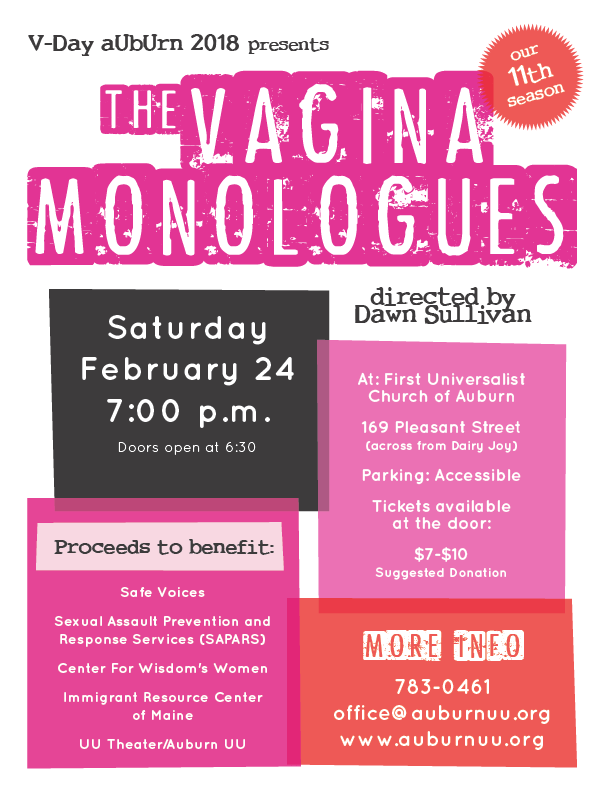 Download|Print Poster
Director Dawn Sullivan has announced the cast for V-Day aUbUrn 2018 presents "The Vagina Monologues." This special 11th edition will be staged on Saturday, Feb. 24, @7pm.

Our fabulous cast includes Emily Brown, Ria Ferris, Josie French, Pat Gardiner, Ashley Hamboyan, Steph Hughes, Sara Karam, Katrina Loef, Becca Lynch, Bets Mallette, Joanne McDonald, Niki Norman, Brandy Solano, Klara Tammany, Emily Torres, Dani Woodbury and Erica Woods

V-Day celebrates the right of women and girls to live free from fear and violence. Proceeds will benefit the Center for Wisdom's Women, Sexual Assault Prevention and Response Services (SAPARS), Safe Voices, Immigrant Resource Center, and Auburn UU.

Tix $7-10 donation. Benefits Safe Voices, SAPARS, CWW and Immigrant Resource Center, V-Day and Auburn UU.