WISDOM BOXES:
These special little boxes are handmade by women at the Center and each one contains a word of wisdom – an affirmation, blessings, poem or quote.  We begin by painting matchboxes then wrapping them with special papers printed by a local paper artist, Sarah Shepley who donates the left over papers from her own work.  See Sarah's work. The boxes are then embellished with beads, wires, other papers.  No two are the same. The boxes sell at several venues around town: Revelation Massage, the Bates College Bookstore, Maine Gourmet Chocolates, St. Mary's Medical Center Gift Shop, and at the local winter farmer's market at the Nutrition Center of Maine.  They are also available in Portland at Karma Fair Trade.  $3/each or 2 for $5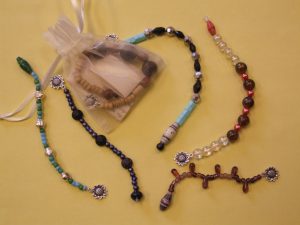 GRATITUDE BEADS:
Develop an "An Attitude of Gratitude" with these wonderful little strings of beads.  Each is unique and is handmade by someone at the Center.  They come in a small pouch with a quote about Gratitude and directions on how to use them. Check out the science of gratitude!  $5 each, 5 for $20 (buy 4 get 1 free).
The boxes and beads make wonderful gifts for birthdays and other occasions. People have bought them to use a gifts at place settings at holiday tables or for favors at weddings.  Others who are business managers have bought them for their staff members.