Giving
Do you care about women's issues? 
Are there women in your life for whom you are grateful? 
Your gifts to The Center will invest in a better life and future for women in our community! Your gifts can also honor the women in your life who have been there for you. As a small non-profit with a big and growing mission, we depend on ALL our donors! EVERY gift has been important. It is our donors that make this work possible. With long term stability in mind, our goal is that only about 11% of The Center's funding comes from foundations. The bulk of support comes from individual and corporate gifts. We make every dollar go a LONG way. You can help keep us going and growing. Here's how…
Donate Now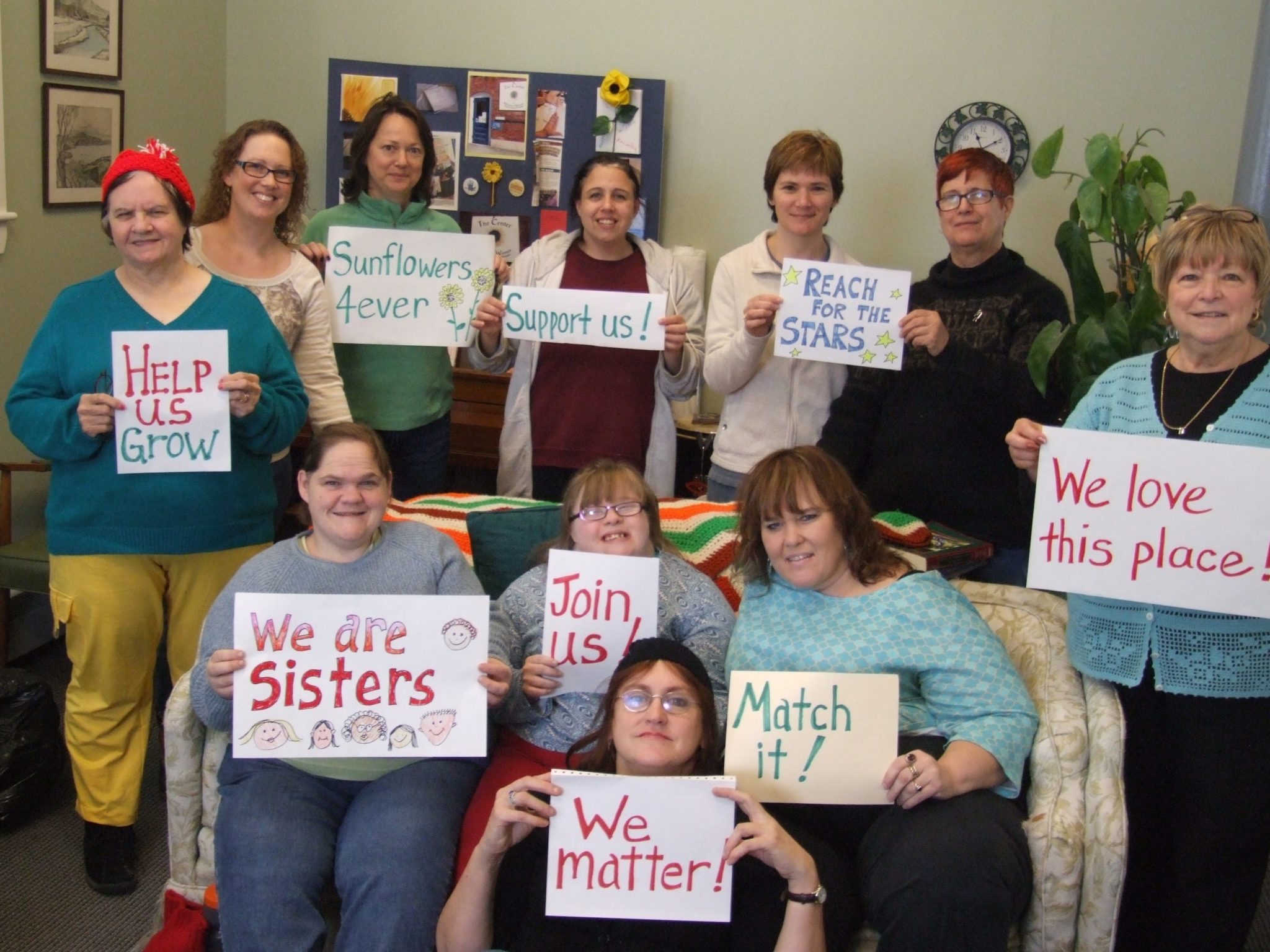 ANNUAL FUNDS: General operating funds are hard to find through foundations, but consistent annual support is what pays for staff and keeps the door open. We invite you to join our community of donors! You can do so as a smaller donor, as a SHERO  for $250,  a Super SHERO for $500 , or join our Sunflower Circle by making a larger gift of $1,000 or more.   A new category of SPONSOR has been added for yearly gifts of $5500 ; this amount covers the  cost for one woman to live at Sophia's House for a year.  SHERO and larger gifts can be pledged and paid monthly or quarterly. Unrestricted funds for The Center daily work are the most helpful, but you can also contribute to our Herban Works or Sophia's House projects.
PLANNED GIVING: Do you have a life insurance policy you no longer need? Are you finalizing your will? Do you have stocks to sell? Through bequests and deferred giving, you can reach your giving goal and help us grow for the future! Please contact us for suggestions and to request a form on which to state your intent to make a planned gift to the women's center. We cannot render legal or tax advice, but for an introduction to different types of planned gifts CLICK HERE. Please consult your attorney or financial advisor for further assistance.
Our Board is the Development Committee
Each Board meeting begins with a 1 hour hands-on task or planning session related to fundraising, followed by a 90 minute business meeting. We have 100% participation from the Board. They also each recruit new SHEROs, cultivating relationships with our larger donors, and nurture relationships with ongoing supporters. With your help, our development plan will lead us to being self sufficient and assure our long term sustainability.
Thank you to these sponsors
Banks and other businesses
(Gifts of $250 or more. Links are donations of over $500.)
Androscoggin Bank        Andrucki & King       Austin Associates, P.A.
AV Systems of Maine            Bangor Savings Bank             B-Street Clinic
Building Controls LLC       Busytown Bikes        Collins Carpet Cleaning Inc      
Community Credit Union       Design Architectural Heating   
Halls Pond Healing Arts      Jones Associates Inc       Labonte's Landscaping          
Liberty Mutual      Loaves and Fishes/Dominican Sisters          
Maine Initiatives       Mechanics Savings Bank      Norman Hanson & DeTroy    
Norway Savings Bank     Platz Associates      Rancourt & Co Shoecrafters         
Roopers Inc      St. Mary's Regional Medical Center     
Williams Financial Services, Inc.
Churches
Episcopal: St. Paul's (Brunswick)
Lutheran: Grace (Auburn), United Methodist Church
Other: Seekers Church (Washington, DC), Holy Trinity Greek Orthodox Church Ladies Society, Congregation of Notre Dame (Provincial Administration)
Foundations
In addition to ongoing support from The Daughters of Wisdom and The Sisters of Charity (St. Hyacinthe) we have also received support from…
Bates College, Carignan Fund       Episcopal Diocese of Maine                                   
Maine Community Foundation and their Androscoggin County Fund
Note: The above are all 2020-22 donors.  If we have left anyone out or made a mistake please let us know!
Other Ways to Help
Clynk – If you live in the Lewiston/Auburn area, ask us for our bags for redeemable bottles. Fill the bag with bottles and take the bag to Hannaford. Scan our sticker on the bag, leave it in the Clynk deposit slot at any Hannaford store. The income is deposited into our account! You help the environment and us!  
Amazon Smile – Shop at Amazon Smile and a % of your purchase will be donated to us!
Wish List
Hygiene items: Feminine products, shampoo/conditioner, deodorant, toothpaste/brushes and floss, soap etc. (These are given away.  Please only full size products, not samples, new/unopened.)
Beverages: Instant coffee (reg. & decaf), hot chocolate, herbal teas, powdered milk, honey, sugar & creamer.
Snacks: cookies, oatmeal, healthy munchies like granola bars, dry fruit & nuts, single serving fruit cups
& soups, diabetic snacks, peanut butter.
Paper goods: toilet paper, napkins, paper towels, plates & cups.
Gift certificates: Office supply stores (for printer ink, paper etc.), hairdressers (to give away for
birthdays), $4 Dunkin Donut cards, $25 grocery cards.
In Kind: Computer tech support, social media manager; printing services.