Afterglow ~ Lean in Toward the Light
March 21, 2021 @ 3:00 pm

-

4:30 pm
Sunday afternoon 3:00- 4:30 – Lean In Toward the Light Afterglow
A virtual tea party to thank and celebrate all those who helped create Sophia's House.  It will include the dedication of the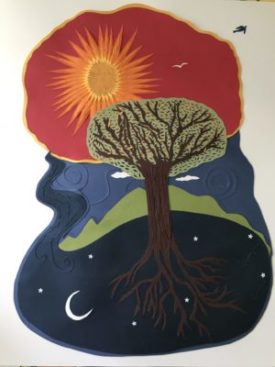 dining room in honor of three orders of nuns who have shaped our work; a video tour of the house; sharing of poetry by, for and about women; and a formal kick off for the Klara Tammany legacy fund.
Make some Welsh Tea Cakes and brew a cup of tea and come join us! Here is the recipe.
WELSH TEA CAKES
4 c flour
3 tsp baking powder
1/2 tsp salt
1/2 tsp nutmeg
1 1/2 c sugar
2 sticks butter
1 c currants
2 eggs beaten with 1/3 c milk
Cut butter into dry ingredients, add currants and mix well. Add eggs with milk. Work into pie dough consistency.
Roll out to 1/8″ thick. Cut with a round cookie cutter. Fry like pancakes in a pan at about 340 degrees 'til brown, turn and brown other side. Pat both sides in bowl of sugar. Makes about 10 doz.