BRINGING NATURE HOME – A Spring Fling with Maine Audubon
May 14, 2020 @ 5:30 pm

-

7:00 pm

Free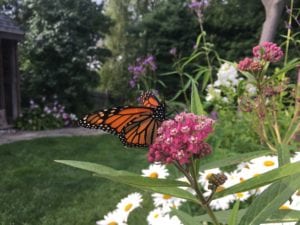 To kick off the growing season, Sophia's House and Herban Works, and the neighbozring "Lots to Gardens" program of St. Mary's Nutrition Center, will host a webinar with Eric Topper, Director of Education for Maine Audubon. The program called "Bringing Nature Home" is Maine Audubon's new community engagement and habitat stewardship initiative based on the bestselling book of that title by Doug Tallamy.
Join Eric and hosts on line, to explore the plants, practices and perks involved in restoring native food webs in our gardens, yards and communities. The focus for this program will be on doing so even in the urban environment of Lewiston. The presentation will be followed by some Q&A.
Like many places, the landscapes and ecology in the more developed parts of Maine have changed dramatically. Today, gardens, yards, neighborhoods and towns are playing increasingly critical roles in supporting native food webs for birds, pollinators and other wildlife. Our individual efforts to support wildlife can be both intimately rewarding and broadly beneficial.
With an overall focus on Maine birds and their habitats, Eric will introduce what individuals and groups can do to help create a native landscape, including what plants to choose and how to manage and maintain our gardens for their full ecological function and benefit. He will also discuss the large selection of beautiful native flowers, shrubs and trees we can incorporate into our yards to attract and support a multitude of birds, butterflies and other interesting native wildlife.
This spring and summer, Sophia's House, with the help of Maine Audubon and Lots to Gardens, will be landscaping the yard around the newly opened house.The hope is that the gardens will serve as a demonstration project for what is possible, even in our urban setting, and that the new gardens will become a place of beauty, learning and healing for residents and those who live in the neighborhood.
The landscaping plan is being made possible through the encouragement, and a generous gift from Barbara and Richard Trafton, in memory of their daughter, Margaret Grace Trafton, who loved the outdoors and nature. Maine Audubon is assisting with the project.
Sophia's House is inviting volunteers to help with preparing the ground now, and planting in late May through June. If you have time and expertise to share, you will have the opportunity to sign up that evening.
This event was planned to be held last March at Sophia's House, but had to be cancelled due to the shutdown. Join us anyway, now, for an evening of learning and inspiration just as the gardening season begins. This is free and open to everyone who wishes to lift their spirits!
You must sign up to get the link to participate:
click HERE!