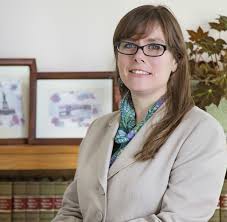 Mara King is a partner at Andrucki & King in Lewiston, Maine. She received her J.D from the University of Maine School of Law in 2007. Mara's areas of practice include Divorce, Parental Rights and Responsibilities, Guardianship of Minors, Adoption, Protection from Abuse, Qualified Domestic Relations Orders and in addition to other areas relating to domestic disputes. She is a rostered Guardian ad Litem.  Mara has been a member of the Maine State Bar Association and the Androscoggin County Bar Association since 2007.
Mara is a former member of the Board of Directors for the Central Maine YWCA. She was a founding Board Member of the Maine Alliance for Drug Treatment Courts and was an active Member of the Board of Directors for six years. She has been a volunteer attorney at the Court House Assistance Project (CHAP) at the Lewiston District Court since 2009, which provides free legal services to low income individuals. Mara was also a member of the Justice for Children Task Force from 2007-2010.
Mara grew up in Bangor, Maine. In 1994, she graduated from Wheaton College in Massachusetts. Prior to working in the legal field, she worked in the political and non-profit sectors.  Mara lives in Androscoggin County with her husband and children.