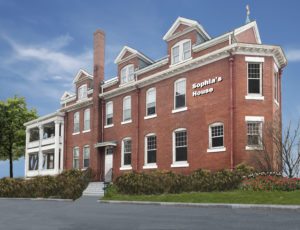 LEWISTON – The Center for Wisdom's Women (The Center) has made big strides toward their goal of opening Sophia's House, a residential recovery community for women in Lewiston. The Center was awarded a $500,000 affordable housing grant from the Federal Home Loan Bank of Boston for rehabilitation of the former convent at 143 Blake Street. The Center was the only recipient in the Lewiston/Auburn area and one of 12 in Maine to receive this prestigious grant.
Norway Savings Bank partnered with The Center on the application as a sponsoring bank. "We support the mission of Sophia's House to help women regain control over their lives by developing a strong community to support them through the process," said Pat Weigel, President and CEO of Norway Savings Bank.
St. Mary's Health System has generously agreed to donate the building to the project. "St. Mary's has had a long-standing commitment to downtown Lewiston, and we are delighted to be able to donate the building to help support women in recovery," says Peter Holden, Interim President of St. Mary's Health System. "Sophia's House will be an invaluable resource, improving the quality of life for people in need."
Renovation plans include the creation of eleven affordable housing units, including six units for women in the recovery program and five units for women who live on fixed incomes. The renovations are estimated to take one year at a cost of $1.5 million. The Center is actively working to secure additional support through grants, historic preservation tax credits, and individual donations.
Built in 1913 for the Sisters of Notre Dame, the convent selected for Sophia's House has been sitting empty for over 10 years. The project will preserve the original beauty of the building through historic preservation, improve its safety and efficiency through abatement and energy updates, and return the building to its original use as a safe haven for women.
Upon its opening, Sophia's House will serve as a long-term, community-based residential recovery program for women who are survivors of addiction, incarceration, and trafficking. The planned program continues for two years and is modeled on Thistle Farms in Nashville, TN, a program that has a 20-year history of success. The Sophia's House project is unique in its approach because of its attention to trauma-informed and gender-specific care and will be the first Thistle Farms affiliate in Maine and the only support system of its kind in the greater Lewiston-Auburn community.
Maine's opioid epidemic and rising rates of trafficking and incarceration make this project critical. Between 2012-14, Androscoggin County had the highest yearly rate of primary treatment admissions related to heroin and morphine (SEOW Special Report, 2015). Conservative estimates suggest 200-300 cases of sex trafficking occur in Maine each year (Hornby Zeller Associates, Inc., 2015) and The Maine Human Trafficking Needs Assessment identified major gaps in housing, residential treatment, and after-hours support capacity for survivors.
"Sophia's House will help individuals break cycles of trauma using a model that's been proven to work. This project will empower women to be their best selves and have a positive impact on the life of our community," said Kristen Cloutier, Lewiston's City Council President and member of the Sophia's House Steering Committee.
The Center hopes to open Sophia's House by the end of 2019, the twenty-year anniversary of the founding of The Center by the Daughters of Wisdom.
If you would like to support the project financially or are interested in serving on the project's Steering Committee contact Klara Tammany (cww@oxfordnetworks.net) or call The Center at 513-3922. More information will also be posted at https://wisdomswomen.org/.